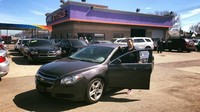 Rhonda 6/11/2019
Repeat customer! Rhonda was pleased with her previous experiance here at Empire Auto Sales, and decided to return for a second car! Congrats to Rhonda!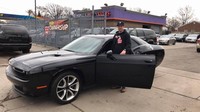 Justin 6/11/2019
Serving the DPD always! It was a pleasure Justin is a local DPD officer and was referred here by another serving officer, who was exceptionally pleased with the rate and vehicle he was leaving with. $0 with his trade in and he was out of his 2008 Trailblazer leaving with a 2015 Dodge Challenger! Congrats!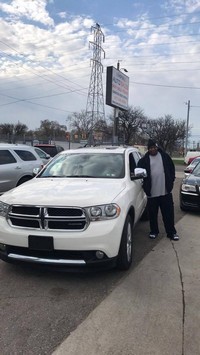 6/11/2019
Came in and needed a nice 3rd row suv. Fell in love with this durango and was not leaving without it. Empire sure did make it happen!

Toia Peacock 6/8/2019
My experience has been nothing less then superb with Empire Auto! Frank took time out and worked with me very detailed through my process and got me in exactly what I wanted. Highly Recommended!

Jared Page 6/3/2019
These guys are amazing! They have a great selection of vehicles! You will be happy that you went there to get your next car.

Cedrick A. Johnson 5/31/2019
Great team Did everything the had to get me in a new vehicle same day , did t try forcing anything on me. Overall great experience.

Shauna Alexis Jones 5/10/2019
Great place! The employees are very friendly. I could've walked away with my car the same day but I left paper work at home. I definitely recommend this place to anyone looking for a vehicle. They definitely don't discriminate against any financial credit issues, they have a solution for you. LOVE THEM!

Hope Ann 4/19/2019
We are going back this week to get our vehicle!! The staff at this location are AMAZING!!! They helped my husband and I out immediately and were able to get as close to our budget as possible!!! Even our trade in was $500 more than any other dealership would give us!!!! That trade in definitely helped us with our down payment!!!!

Elizabeth Neal 3/28/2019
I want send a shout out to Gus and the rest of the empire family. Thank you so much for making me and my family dream come true with beautiful reliable vehicle. If you need a vehicle check out the empire family they got you a blessing from God.

Erykah India Bejazz 9/17/2018
They are one of the most understanding auto sales business that I've been too.. One particular sales Rep was outstanding Brittany Smith.. so was very professional and understanding of my situation, and was very prompt on options.. I would Recommend Empire to all my family and Friends Thanks Empire, you guys are a life saver!!

Lavïsh Shay 4/23/2018
Empire auto sales is the best place to go, i thought it wasnt going to be easy getting a car note but u can go in and leave out the same day with a car of your choice, i love this place they are very friendly and are true to their word.

Sunshine Kimbrough 3/3/2018
These ppl took care of my Auntie 2 months ago when she really needed a car..her credit was not right at all ..she was sure she would be denied because we had been to a dealership and Empire got her in a nice car that she can afford and she is riding all over town..thank you for all you guys did...and yes her car is very nice

DeJuan Dykes 2/8/2018
Wow, can't say much more then the service here beats any lot in the area. Went to the "top" places car source champs and twins auto sales but empire seriously went above and beyond expectations. There reviews are real deal. They will work there ass off to get u into a car.

Ivorycashaddict Hogan 11/27/2017
Mike is my guy! Bought my 06 charger about 7 years ago from him and also my new audi q7! Got me finance at a low interest rate after my first car my credit went from 500 to 680! All my family comes here because theyre not only about $

Jenell Barrett 10/19/2017
Great car service, got my car and love it. If you have and old car trade it in and helps your down payment. Or no payment at all. Call mike he'll get you great and fast service